I took most of the day off today because I had appointments throughout the day. I thought I might have time to do a little shopping in between appointments, but I was really looking for fancy underpants and pajamas, so I didn't really feel the need to dress for trying stuff on. Of course, I ended up trying on a few things anyway! For some reason I felt like wearing a lot of color today. Maybe I was just in a good mood since I knew I got to go to therapy? But I wanted to dress for the cool weather and still look cheery.
Breaking out the fancy tights
The side view picture turned out a lot clearer than the front view. Dress from Anthropologie. Jacket from Gap (it's army green denim, LOVE it). Tights are I think from Urban Outfitters, I love how matte they are, and their tights are a good price as well. Boot by Naturalizer.
The dress is silk and kind of summery, but with our climate I think it works. It was about 55 when I left but in the low 70s mid afternoon, a gorgeous day.
Watch is Timex for J. Crew, bracelet by J. Crew (that yellow is so great, this was a great purchase. I think it was like $7 after the sale?). Locket is vintage, and was a gift from my parents. I need to get a new chain for it.
I also wore a new ring on the other hand that I forgot to take a picture of. I've had the
triangle stacking rings
from Stone and Honey on my wishlist for a while, so when they popped up on
fab.com
I had to pick one up. I think I paid $13 for it through fab? It's a great website and I really recommend signing up for the waiting list. I've gotten this ring, huge discounts on glasses and sunglasses for us, a salt sampler for my brother's birthday, and a
Sharon Montrose print
, all at great discounts.
Anyway, I took these pictures the other day when I got it in the mail as a part of Project 365 (taking a pic every day for a year). It's gorgeous, but I wish I'd remembered to take a pic of it on my hand to show how teeny it is.
I felt really fantastic in this outfit today, and it was perfect for the weather. Like I said, I did end up trying on some clothes but my tights didn't distract too badly, so it was still okay.
I went to Anthropologie for the second time in three days. Oops! I was looking for lingerie and pajamas but wanted something different, and they had some great things. Our local store had a TON of stuff on the sale rack. I don't know if they're prepping for Black Friday or what, but there were some great deals to be had.
I've had my eye on
this dress
since it first came out, but at $198 I was really hesitant. It's silk, a great print, and super flattering with a drapey top and more fitted skirt, but that's just a lot of money for one piece. I noticed it on the sale rack today and it was marked down to $49. Sold! It's sold out in every size but M online, but they had both M and L in my store (I bought a L and found it to run true to size, blousy on top).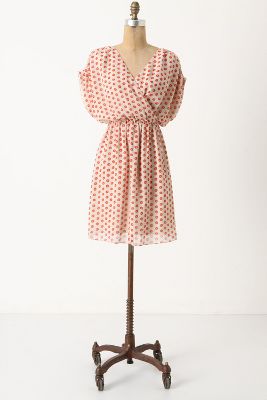 The Addison Story Collecting Dots Dress $49
This skirt
also caught my eye in the sale room, but in a rose color instead of the black. It's poly, but I honestly wouldn't have known - it feels like silk. It's super comfortable with an elastic waist and the pleating is gorgeous. I fell in love with the movement of it. I was unsure about the length of a midi skirt on me, but I actually really loved it. I think with a simple top and ballet flats, it will be really great. I paid $39, and with a regular price of $159 I think it was quite a steal! I'll wear it pretty high on the waist, and that seemed to be the most flattering, but with the elastic waist there's freedom to switch it up as well. They currently have S, M, and L in the black online. I think some of the detail could be lost in the black version, but it looks very cute as well. I thought this one ran TTS.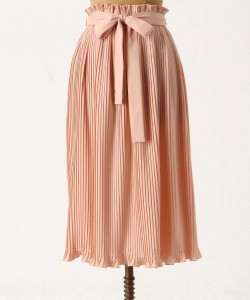 Hunter Davis Million Pleats Midi Skirt $39
I'm so happy with both of these purchases. I can see myself wearing each of them a ton!