I had a great looooong weekend with my family, stuffing my face. And now I'm back home with my husband, stuffing my face. This week will be a whirlwind of cleaning and trying to eat everything in our refrigerator while we get ready for our trip. We're leaving FRIDAY and I am so freaking excited.
So here's my OOTD for Thursday. This was a day of cooking, eating, board games, taking a walk, and hanging out with people I don't get to see nearly enough.
Taken in my 13 year old cousin's very pink room
Tunic - Levi's, Tights - Missoni for Target, Boots - Frye, watch, shell pink bangle - J. Crew, thin gold bangle -
failjewelry
, necklace -
freshy fig
, ring -
Stone & Honey
, beaded bracelet - The Venerable Bead
I love the way this tunic is cut on the side, and it's super comfortable. Plus, something with a forgiving waistband is a must on Thanksgiving.
I'm really happy about the way my Fryes are breaking in. They were almost impossible to get on and off at first, even after I had them stretched. But they get more comfortable each time I wear them, and getting them on and off isn't so much of a chore.
Of course, we all know there's one more holiday that was celebrated last week - Black Friday. My sister in law asked me if shopping was a hobby or something because I seemed to do it so much. Oops.
Anyway, I really wasn't into a lot of the deals I saw being advertised. There's not too much in the town I spend Thanksgiving in, so I have to decide whether the sales are worth driving a little over an hour for. And since I just don't need anything right now and I'm saving up Christmas shopping for our trip, I decided not to go.
But I did shop online in the afternoon, from the comfort of my grandmother's desk. I didn't get a ton (again, the deals didn't seem that great. Lego was BOGO 50% off at TRU - that deal comes along about once every couple of months so it's not worth going in the middle of the night!), but I did pick up a few things.
Fab.com is having a long weekend event, starting on Black Friday and continuing through Cyber Monday. Just logging in gets you a $10 credit, and then you get an additional $10 for every $100 you spend. I logged in to get my $10, and I really loved the Creative Growth art, but the stuff I was interested in was already sold out. I also loved seeing Cats in Clothes by Heather Mattoon, because Brett and I had just been looking at those a couple of days earlier.
In the end, I bought a small print and some fancy chocolate from fab.com.
Black flowers print from Brainstorm
Also,
Wuslu
is celebrating their second anniversary by offering mystery boxes for $19.50. I got two, and I'm hoping for something more like distressed wire baskets and less like an Always Kiss Me Goodnight pillow. I can always regift if I hate it!
And lastly, I got sucked in by Anthro's additional 25% off sale. I was happy to see a couple of things that I almost bought last week just went on sale, and I got them for a big discount.
I bought this pajama set, which I saw in store and is super soft and comfy. The original price for the set would have been $116, and I paid less than $60.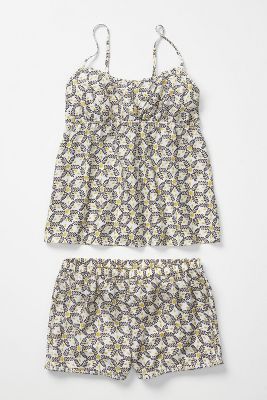 Chaparral Pajamas
I also got this shirt in gray for about a third of the original price.
Paddington Pullover
And I got this sweater for my mom for just $45, down from $100. It's not really my style, but it's totally her. It will look great and be really comfy.
Chain Channel Stitch Pullover
I also got a white blouse and some socks for myself. The blouse is backordered but I really hope they can fulfill it!
I hope everyone had a great holiday and found some awesome deals on Friday! I'm trying to do zero shopping tomorrow for cyber Monday. Any other holdouts?