Thanksgiving is just a week away, I've ordered a fried turkey to take on the trek to my grandma's, and I'm sitting here full of delicious treats from my office work potluck. Sure, it means it's time to gather with my family and spend time cooking, laughing, eating, playing games, taking walks in the woods and riding wagons down hills. But it also means that in one week and one day, it's officially Christmas season!
Now, normally we put up our tree and decorations as soon as we get home from Thanksgiving, on that Sunday. so we have almost a month to enjoy it all (they have to come down before the New Year OR ELSE). But this year, I'm coming home on a Sunday and leaving again on Friday for over a week. I seriously doubt I'll have time to put any decorations up in that short time - other than the jingle bell wreath on my office door.
So we'll play it by ear. Depending on how tired I am, we'll either put them up right when we get home or sometime that week. And it may be a condensed version this year, partly because of timing and partly because we're not hosting. But I definitely want to have something.
So, our standard decorations are a tall, skinny tree with white lights and a silver star on top. We have balls in shades of red and brass tones, that match the red and brass accents in our living room. But other than that, our tree doesn't have a theme. I'll probably use an Ikea sheepskin as a skirt, or a plain red felt one I made a couple of years ago. We just buy ornaments that we love, a few each year. A lot of them are animals, just because we love animals so much, but that's not as much a tree theme as an entire house theme.
So far this year, I've picked up this little guy, a fair trade llama.
I bought him at Whole Foods. He's not a food.
And then yesterday I stopped by Anthropologie since I was in the area and found these guys.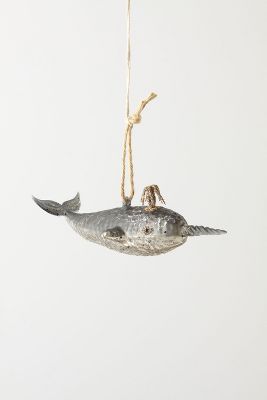 It's a narwhal! I love his waterspout the most, it's glittery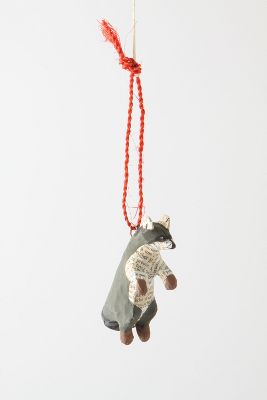 A raccoon made of newspaper by Haitian artisans. He's pretty adorable
Some of my other favorites are my paper mache dinosaurs, a bottle brush owl, and some felted wool creatures. I love getting them out each year.
I'd also really love some garland on the tree. I love the
red felt ball garland
at West Elm for $14 a string. I just wish I knew how long it was because the dimensions on the site (8.5" long) can't possibly be right. Maybe they mean 85"? I could also make a felt or tissue paper garland myself, but I feel like I should plan to NOT do any DIY projects for the holidays with my schedule.
As for other decor, we've got glitter trees, dotted felt stockings I made a few years ago (I'll have to turn the one with a W into an M this year which will be rough on us I'm sure, but we're happy to celebrate Moe's first Christmas. Yes, my cats have stockings. Yes, I fill them.), glitter candlesticks to replace the gray ones we have out. Just simple things.
I do want to go all out on our Christmas table though. Now, I know I said we weren't hosting this year, and we're not. My brother and sister in law are hosting and I can't wait to go up and visit them. But Brett and I always spend Christmas Eve and Christmas Day alone together, at home, anyway. We celebrate with our families on another weekend and make those days about us. It helps that Brett usually has to work up until that last minute and then sometimes the next day (and sometimes ON Christmas). But it's a favorite tradition of ours anyway.
When we get up we'll open gifts, then go to the Waffle House for breakfast, another tradition. We'll be too full and happy for lunch, but we'll cook a nice dinner together and I want the table to look festive. Last year, I went fun and fancy with our china, vintage brass, and black, white, and red linens.
This year, with just the two of us, I think I might stick with Fiestaware in red, shamrock, and lemongrass. Add in white linens, brass candlesticks, and green and white hydrangea and tulips in our vintage glassware, and I think it will look lovely. The best part is that all I have to buy is the flowers. And the food of course. Everything else, I have!
This quick mood board kind of illustrates what I'm going for. I love the colors, and I think I'll want to use a lot of white. And those giraffes are just too cute to leave on the mantel all the time.
Anybody have big plans for their Christmas tables (or Thanksgiving! Or Hannukah?)? I love these kinds of things, but maybe it's just me.