Androgyny is sexy. We all know it, so we may as well just embrace it.
Model Agyness Deyn
David Bowie


Grace Jones
See? Hot.
Boyfriend style is officially a thing. I first heard about it with boyfriend jeans a few years ago. But I'm really really not a fan.
But there are a ton of ways to get this look without looking like you forgot to wash your clothes or got dressed in the dark.
First, let's talk watches. If you google boyfriend style watch, you'll get a ton of hits, but I love ASOS's
tortoiseshell take
for 30 GBP (which is what, $50? I should know this). But for my money the best way to get the boyfriend look is with a men's watch. I wear the
Timex for J. Crew Vintage Field Army Watch
, seen below and in tons of my OOTD posts.
Timex for J. Crew Vintage Field Army Watch $150
The only issue is the band length. The original army green band is fine if I wear it a little loose, which to me is essential for this "boyfriend" look. The extra bands are a little longer, on the verge of being too long, so they probably wouldn't work for someone with really small wrists. But if you went with a metal banded watch, you could always have links removed.
While we're at J. Crew, let's talk about clothing. This is one of my favorite source's for men's clothing, both for my husband and for me. In fact, they used to have a size converter on their size chart for women's to men's sizing, but I don't see it now. But I'm a L or XL in women's depending on fit at J. Crew, and I'm ususally safe with a M in men's.
Take
this shirt
, one of the washed favorite shirts. This large scale gingham in a classic navy would be perfect for layering under a bright sweater or topping off a skirt. Compare the women's perfect shirt in gingham and you'll find a price difference of almost $10.
J. Crew Secret Wash Shirt $64.50
And since my major obsession with J. Crew is the knits, of course I have to mention the tees. I find the long sleeved men's tees to be great for layering. They tend to be a little thicker and come in a more muted palette. I have some great henley's from the men's section, and I'm always venturing back there for socks and accessories.
Another company that's great with boyfriend style is J. Crew's little sister company, Madewell. I love their
ex-boyfriend sweater
along with all of the looser fit tees and shirts. I picked up with purple version on Cyber Monday (I know, I know, I said no shopping).
Madewell Ex-Boyfriend Sweater on sale for $49.50
They have a kickass
chambray shirt
that's an almost tunic length for $68. And even some of their more feminine pieces, like this
silk shirt
, have a masculine vibe.
Madewell silk cargo shirt on sale for $59.99
For accessories, all of a sudden I'm really into masculine bags. This
brief bag
from Jack Spade, on sale for $145, is really gorgeous. I could definitely see it serving as a work bag for me. (Side note: Jack Spade is a great place to shop for gifts if your guy is a bit of a clothes horse. They have some awesome stuff, and I would totally wear those air quote mittens).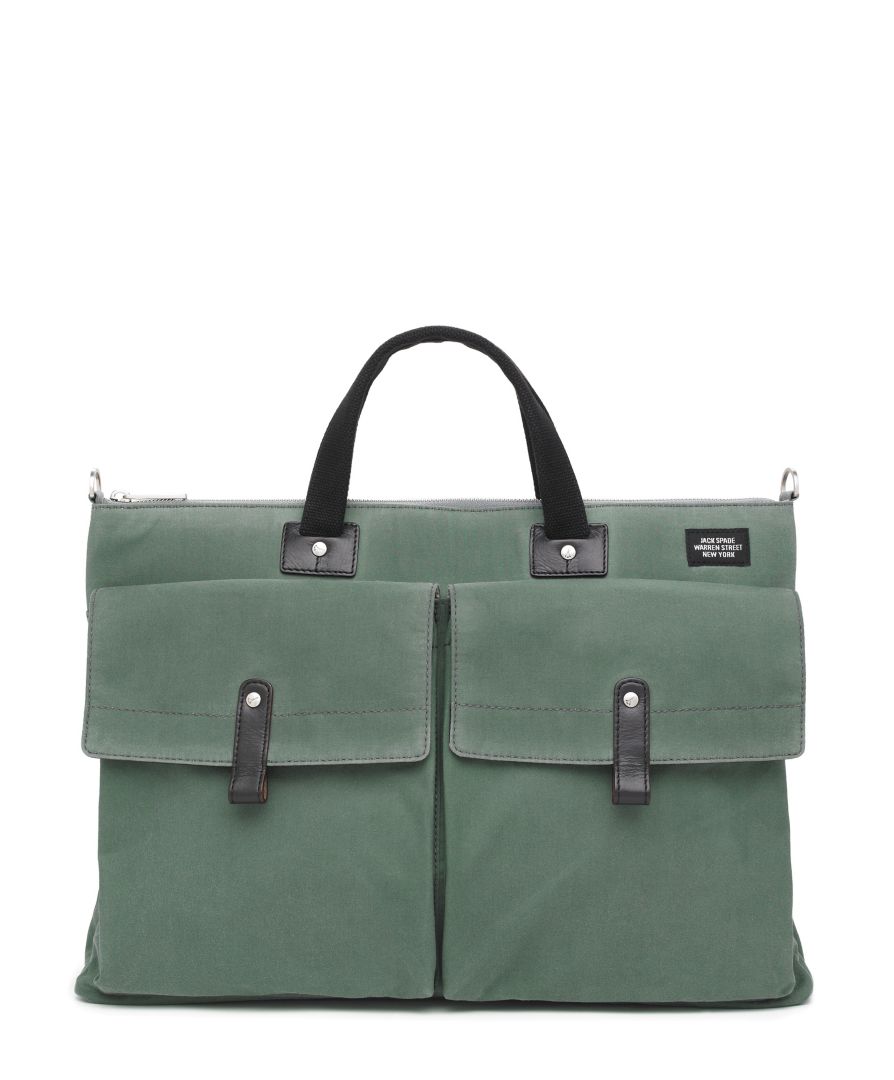 Jack Spade Waxwear Pocket Brief $145
But it doesn't need to stop at what you wear, right? Of course, you can get the androgynous look and have long, flowing locks. Bowie did it. But having super short hair is a great place to start. I can also tell you it's insanely easy too. I got my hair cut yesterday, which is always a fun time. I love my stylist (Jill at Paris Parker on Jefferson if anyone in Baton rouge stumbles onto this. She's amazing and worth every penny), and she has such a great eye. Literally, I've shown her a picture of my new glasses before and she made an awesome hairstyle around them.
But the first time she cut my hair really short, I didn't show her a picture of Mia Farrow or Carey Mulligan. I showed her this little boy, from the Crewcuts section of the J. Crew catalog.
This kid has great hair
She changed it up a bit for me, especially since my hair is super straight and she knows I'm not willing to do any styling (I am LAZY). But the idea is there.
I'm excellent at taking blurry photos!
I love my hair. I'm aware of how I sound right now but I don't care. My hair is THE BEST!
Dude, it was COLD yesterday! But I needed a spa appropriate outfit so I was not dressed for it and my legs were freezing. All my cold weather clothes are packed and here we are with a three day freeze happening! Anyone else having trouble dressing for the weather?